Bless my mom's heart, she bought me a clergy shirt recently. I already have one in black and so she felt that I needed a white one. I was quite excited to receive this impromptu gift because, first, it was from my mom and secondly, I needed another clergy shirt. However, I am CONVINCED that women's clericals are of SATAN! They never fit right, they are too doggone hot and just plain unfashionable and uncomfortable! I am convinced that satan gave some man the idea of creating these hideous garments just like the underwire bra. Only a man would put wires and plastic in a garment that women have to wear. If you haven't guessed by now, I am disappointed by the selections that we women clergy have in the way of clericals.
My journey into the clericals land has not been a joyous one. It is oftentimes frustrating and hopeless. I try not to wear clericals if at all possible. However, there are times when I have to put on that torturous garment that does absolutely nothing for my fashion sense and comfort. It is an inhumane piece of clothing and I am sure that many of my female colleagues have had the same experience as I.
But wait!!!! Help is on the way my sisters if you are willing to spend a few extra dollars. I figure that if I spend $54 for one ill-fitting shirt now that I can put another $25-$100 with that $54 to get me a shirt that fits well and looks good. Here are some companies that I have found.
Stitches of Ayr
(
http://shop.stitchesofayr.com/Womens-Shirts_c8.htm
)- A company out of Canada that:
Stitches of Ayr aims to "Redesign the Uniform" by bringing modern styling, comfort, and eco-sensitive fabrics to clerical clothing and vestments. The unique styling of our clerical shirts allows for the clergy person to be stylish, comfortable, and approachable, while still maintaining the significance of the clergy collar.
These shirts cost $90 each.
Spiritual Apparel
(
http://www.spiritualapparel.com
)- This company specializes in the custom "Janie" of sorts.
The Women's Clerical Bodice is made of a fine,
lightweight
, pre-washed suiting material that is a Cotton/Polyester/Lycra blend. The fabric moves and breathes comfortably with the body for optimal comfort and wearability. It comes as a full band collar or as a tab collar. This item was featured in TLC's, "What Not to Wear" when they featured a woman Episcopalian priest for a make-over. It is $90.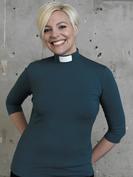 $149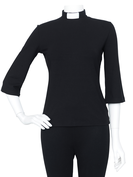 and they come in a variety of colors!
Finally, shirts that fit! I am ordering a few of these today and I bind my other shirts in the name of Jesus and toss them back into the pits of hell!